Liddicoat Butchers, 11 Fore Street
Lostwithiel PL22 0BW
Made to our own special recipe!
Our pasties are incredibly popular.
We make traditional steak pasties containing swede, onion, potato and the best steak. We make our own pastry which gives them a unique, very special quality for which they have become famous.
They are sold cooked from the shop and frozen to bake at home. You are advised to telephone us and place your pasty order to avoid disappointment.
Cheese and onion pasties are crafted using the same delicious pastry and contain potato, swede, onion and cheese. They are sold frozen to bake at home or cooked to order (telephone at least one hour before collection).
Homemade pies to bake at home
We make individual and family sized chicken pies which are sold frozen to bake at home. The homemade pastry cases are filled with succulent chicken in a homemade sauce which is prepared from fresh ingredients and homemade chicken stock, without artificial colours or preservatives.
Another best seller is our shepherds pies which are sold frozen in one or two person portions. They are made from the best quality minced lamb cooked in a rich red wine sauce.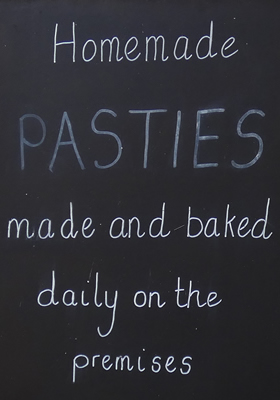 Prices in images on this website are representational
and may change.